Weight room will be open this week and next week M/T/Th/Fr from 4:30-5:30 for anyone grades 6-12. Coach Bay will be opening it up.

Early Childhood Education(Preschool, Readiness Kindergarten, Kindergarten) information: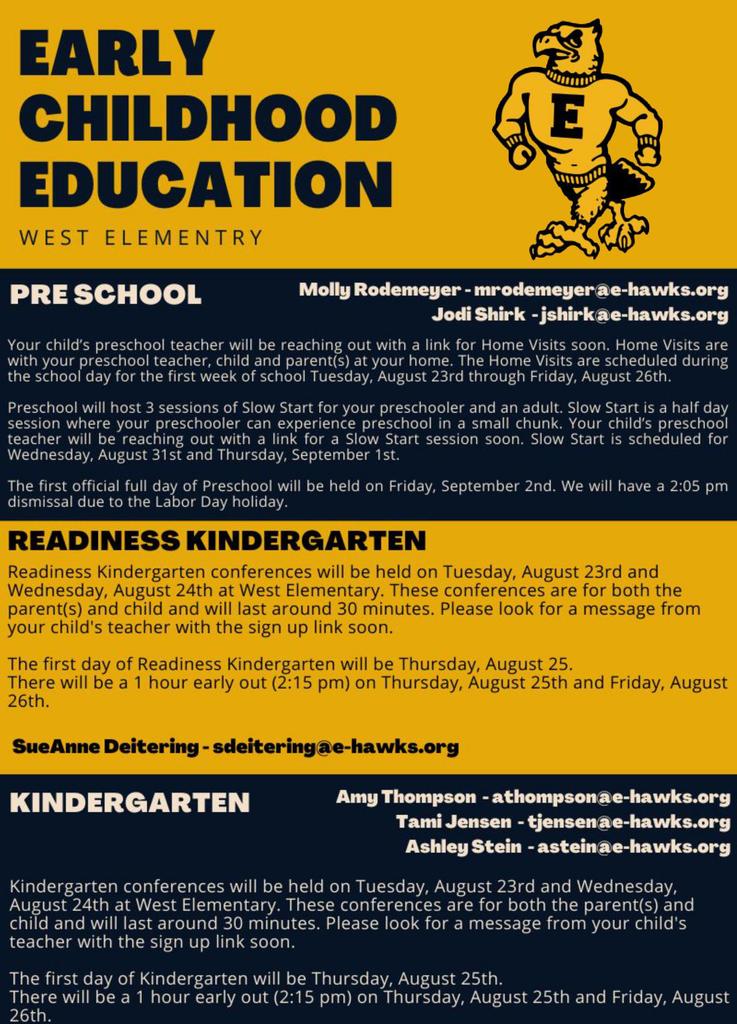 GET READY 2ND GRADERS!! We brought home something fun today to add to our classroom this school year!! For those interested look up ioponics! #tomorrowSTEMsfromiowa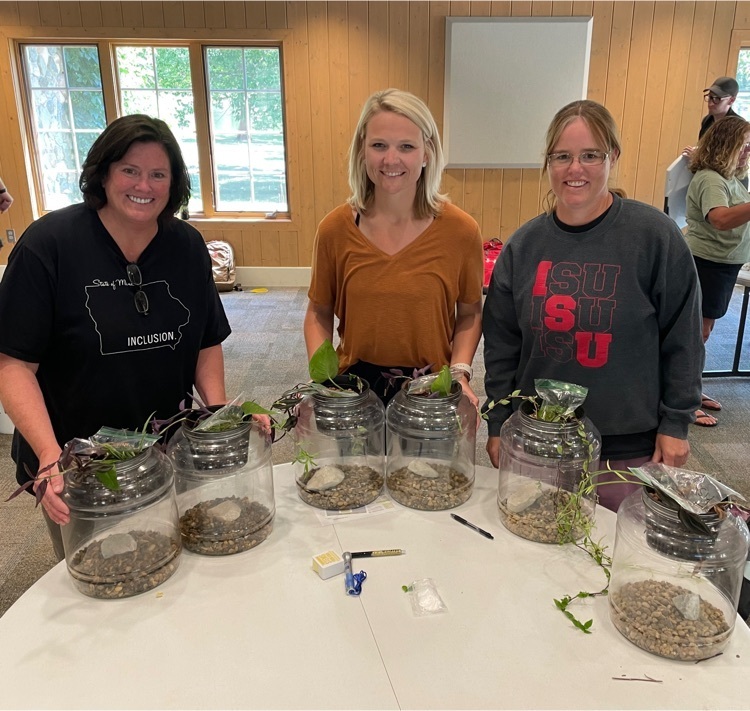 Enjoy some fresh squeezed lemonade at RAGBRAI to support the Jr class post Prom!

Come support the Vocal and Band boosters at RAGBRAI today!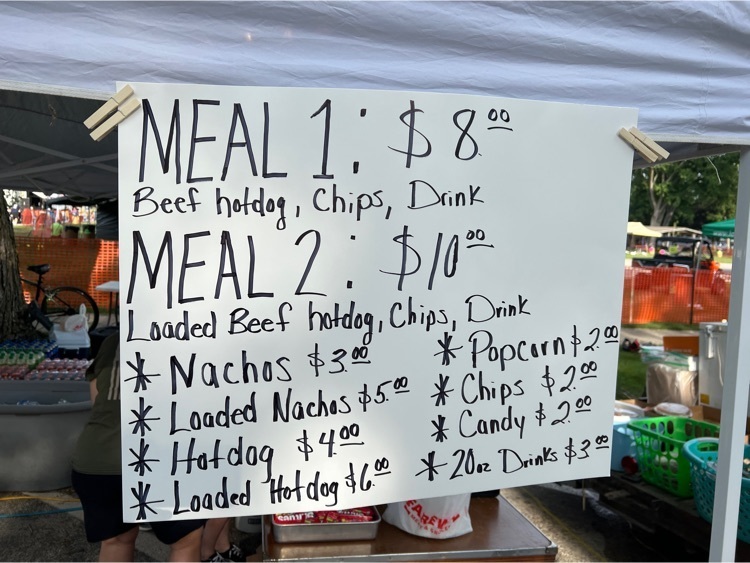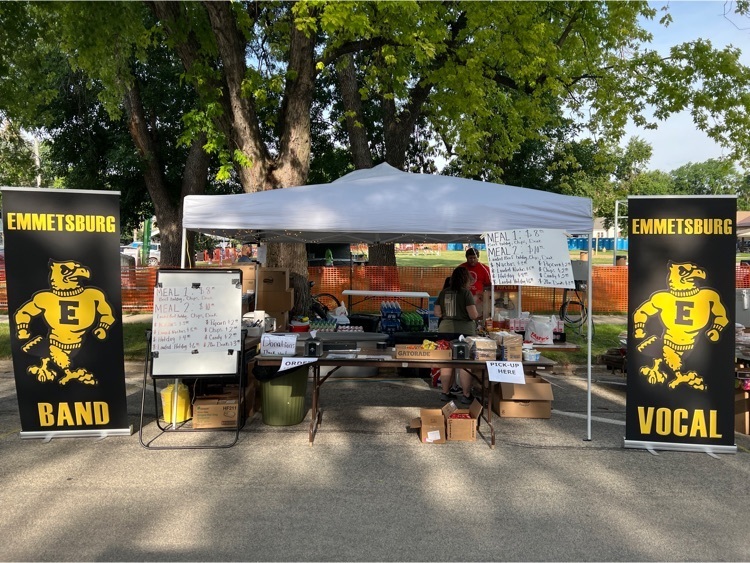 Come out and support the Vocal and Band Boosters next Tuesday during RAGBRAI!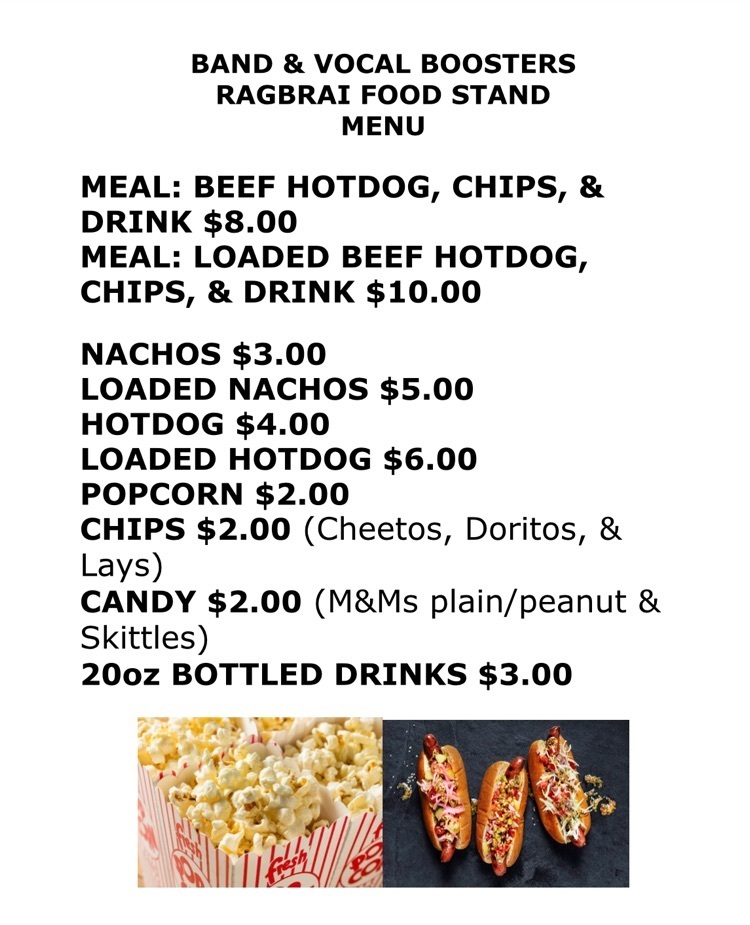 Come join us for the Middle School E-Hawk Volleyball Camp! When: August 3th & 4th Each day will be 8:00 -10:00 a.m. for 5th & 6th Grade Who: Middle School Girls Entering Grades 5-6 for Fall 2022 Price: $20 The E-Hawk Middle School Volleyball Camp will be led by Danielle Auten, Head Volleyball Coach at Emmetsburg and the Emmetsburg Volleyball Coaching Staff. In this camp players will go through various individual and team drills. These will not only train the core skills of volleyball, but the mental side of the game as well. Price includes a Camp Volleyball t-shirt.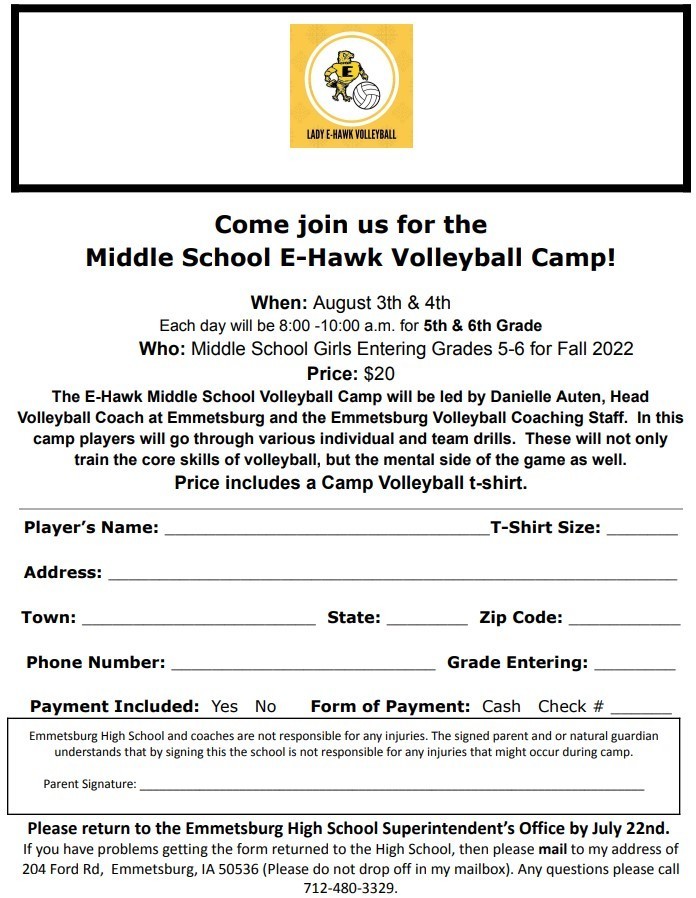 Tonight's (July 6th) District Baseball Games at Estherville will start 1 hour earlier. Please help pass the word to all E-Hawk fans. 4:00pm Spirit Lake vs Okoboji 6:00pm Emmetsburg vs ELC

District baseball tonight in Estherville has been postponed to tomorrow due to pending weather tonight. Stay tuned to start times for tomorrows games as they may be played earlier. Tickets bought for today are still valid for tomorrow.

Good luck to the E-Hawk Baseball team tonight as they travel to Estherville to take on the Midgets in the 2nd round of District Baseball. Game time is @ 7:00. Tickets must be purchased online.
https://www.iahsaa.org/tickets/

District baseball tonight in Spirit Lake. We play Sibley-Ocheyedan at 5:00. Tickets must be purchased online through the following link:
https://www.iahsaa.org/tickets/

Regional softball tonight in Emmetsburg. St. Mary's vs. Ar-We-Va at 5:00. Emmetsburg vs. South Central Calhoun at 7:30. The Emmetsburg game will not start until 7:30. Purchase your tickets online at the following link.
https://ia.varsitybound.com/schools/emmetsburg/tickets


Baseball pairings are out. The E-Hawks will be playing Sibley Ocheyedan on July 2nd in Spirit Lake @ 5:00. Tickets are only available on line. Use the following link to purchase tickets.
https://www.iahsaa.org/tickets/

Softball pairings have come out. Emmetsburg will be hosting South Central Calhoun on Friday July 1st at 7:30. We also host a 1A game between Storm Lake St. Mary's and Ar-We-Ava first starting at 5:00. Tickets must be purchased on line. The link will be provided when available.

Today's softball tournament in Garner has been cancelled due to rain.

Thank you Seniors and Parents for your years of dedication to E-Hawk Athletics!!Good luck to you and your future endeavors!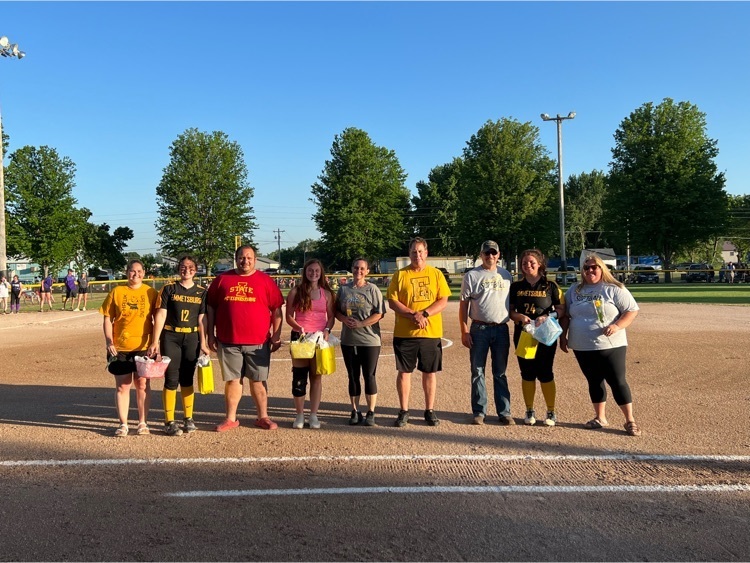 Thank you seniors and your parents for the time and dedication to the E-Hawk Baseball Team!!! Good luck on all your future endeavors!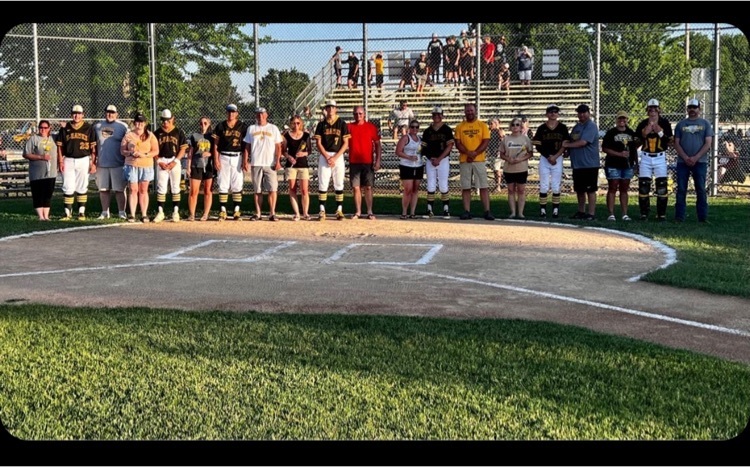 We are pushing the start time of our JV games tonight to 6:00 with the varsity games to follow. Parents please make sure your kids have plenty of water.

Come out to the ballparks tonight for Softball/Baseball against GTRA. It's also Senior night!! We will recognize them for all the hard work they have put in these past 4 years. JV games start @ 5:30.